Prudhoe Bay and the Infamous Dalton Highway — The 9 Essential Tips to Get You There and Back in One Piece
If you're here, you're probably thinking about riding the Dalton Highway. That's great! You'll be joining a small cadre of riders in a league of their own. In this post I'll share my own experience riding the Dalton Highway, but first, let's get you the information you need to rock this adventure. The following tips are based on questions I've received from riders planning to take on the Dalton Highway:
How much riding experience do I need?
If you're an experienced rider, then you can skip to #2. If you've got some experience but are still wondering whether you've got the chops to do the Dalton Highway then read on. Obviously, the more experience you have the better, but I think that another important determinant on whether you can take on the haul road successfully is your riding style. While riding through South America I met a rider with tons of experience who ended up in a ditch because he was overconfident and rode his bike like a jackass. Conversely, I had little experience myself when I did it — about five years — and I kicked ass. I wouldn't recommend you head for Alaska straight out of the Basic Riders course, but if you've got around 10,000 miles under your belt and are a conscientious rider, I think you'll do fine. To be sure, take your bike down some forest roads and get a feel for varying road conditions.


When is the best time to ride?
If you want to ride in comfort, then I'd recommend going during the last ten days of July. Where did I get such precise timeline? It's based on weather historical averages — check out the details on Deadhorse, Alaska, at Weatherspark. Keep in mind that the weather changes quickly in this area, so be prepared for rain and cold, because you'll get both. If you're lucky, you might also get a little sunshine as well.


Is it safe to ride alone? Or should I go with a group?
You have four options here:

Ride with a friend. If you can talk a buddy into joining you for the ride, then I definitely recommend it. The advantage here is that you're riding with someone you know. It makes things easier when conflict arises (because it will) and you're able to quickly work it out.

Team up with someone online. If your buddy can't join but you're leery about going alone, then check with adventure rider groups on Facebook, like the International Brotherhood of Adventure Riders. Post about your upcoming adventure and see if anyone who's also making the trip would like to join you. This is a little risky because it's hard to tell whether you'd get along with a stranger based on email exchanges, chats, or even phone conversations — so set the expectations clearly. Talk through things like departure/return dates, route, mileage per day, number of stops, lodging, food, etc. While planning my ride I connected with a few people; unfortunately, we couldn't agree on a departure date. I was set on going during the last week of July, while they wanted to go in mid-August for whatever reason.

Ride with a tour company. This is an expensive option — anywhere from $5,000 to $6,000, minus $1,500 if you bring your own bike — but it provides you with the safest bet and peace of mind. Your lodging and food are prearranged and you'll have a support crew that'll handle any mechanical issues. Check out MotoQuest for more information. I actually considered going with a tour company, but backed out of the idea because I wanted to see if I could do it alone. My biggest fear was getting stranded in the middle of nowhere. Towing the bike out would cost hundreds if not thousands. Still, going with them would cost more than what I'd have to pay to have the bike towed on a worst case scenario.

Lastly, you ride alone, which is what I did. I read tons of blogs warning me not to take on the Dalton Highway — they said I'd be crazy to do it alone! Yes, because of the terrain and remoteness, this is a risky route. But with proper planning you can mitigate most of those risks — everything from getting enough sleep to riding cautiously will help you get through it without a hitch. I did!


Getting to Fairbanks.
If you have the time, I recommend riding there. While I enjoyed taking on the Dalton Highway, that ride accounted for only four days out of the six weeks I spent riding to and from Fairbanks. It was on my way there that I saw some of the most beautiful sceneries and met some of the coolest people. I understand that not everyone can take extended leave, so another option would be to ship your bike to Fairbanks and take a flight. Depending on your location, it might be cheaper to just go with a tour company.


Lodging
If you're riding to Fairbanks, then I recommend camping along the way. British Columbia and Yukon have some amazing campgrounds. If you're riding through Yukon, you should check out Liard River Hot Springs. I stayed there for a couple of days on the way north and again on the way back

While in Fairbanks you can save some money by staying at the University of Alaska Fairbanks — during the summer they rent the dorms to tourists.

Coldfoot is your midpoint between Fairbanks and Prudhoe Bay. You could stay at Coldfoot Camp for about $250, or ride five more miles north and camp at the Marion Creek Campground for $5. I camped and really enjoyed my stay.

While in Prudhoe Bay. Once you make it to Deadhorse, you definitely should stay at the Prudhoe Bay Hotel. The staff is really friendly, their rooms are clean and comfortable, and the food is awesome. For about $99 you get a room and all-you-can-eat during your stay. Call as soon as you get to Fairbanks to make sure they'll have room for you.


Tires and Maintenance
You'll definitely need knobby tires for the Dalton Highway, unless you're riding a moped (people do and they seem to fare better than adventure motorcycles, but that's another story). If you're riding to Fairbanks, then I recommend getting a new set of knobby tires once you get there. Call the motorcycle shop at least two weeks before your arrival and place your order to make sure they have the tires on the day you need them. I ride a BMW, so I went with Trail's End BMW -- Excellent service.

I don't have any mechanic skills, so the most I can do is replace a tire. If you work on your bike, you probably know what tools to bring and can skip this section altogether. If, on the other hand, you're like me, then do yourself a favor and rehearse removing and replacing your tires before you leave home. Then, make sure you pack all the tools you need to get the job done. If one of your tires is damaged beyond patching on the Dalton Highway, then you can remove it and hitch a ride to the nearest town to have it fixed. Anything beyond that will probably require having the bike towed, so why bother with any additional tools. Don't forget to pack an air compressor to inflate your tire after patching it.


Do I need to carry an extra tank of gas.
To give you a frame of reference, I ride a BMW F800GS Adventure, which has a 6.3-gallon tank and can yield about 300 miles to a tank, depending on road conditions — I did not need to carry an extra tank of gas.

Between Fairbanks and your midpoint (Coldfoot) you'll find two gas stations. The first one is at the Yukon River Camp (135 miles north of Fairbanks), and the second one is at Coldfoot, which is another 119 miles north of Yukon River Camp. The second leg of the trip will be the tricky one if you have a small tank. From Coldfoot to Deadhorse it's 241 miles and there are no gas stations throughout this portion of the route until you reach Deadhorse. There are quite a few climbs, as well as areas that will require very slow riding, so take that into account.


Gear (suit, boots, mosquito net)
Bring your camping gear and definitely pack a mosquito net. I got lucky because there were no mosquitos during my ride, but based on what I've seen on the web, there are tons of mosquitos and they're ferocious.

As for riding gear, make sure you're prepared for rainy and cold weather. The ride is long and can be arduous if you're not comfortable. While the temperature was pretty cold at some points during my ride, I was pretty balmy in my Rallye Suit and Gravel boots.


Extra tips:

Do I need that Alaska Milepost book? I don't think so. I got it for my trip but ended up giving it away to a pair of bicyclists I met along the way. That book has nothing that you can't find using Google Maps.

Google Maps - download offline maps before you leave Fairbanks

Subscribe to Alaska511 for road condition alerts

Be nice to others along the way. If you see large trucks behind you, move to the right and let them pass.

Take the Arctic Ocean Shuttle tour. The only way to reach the shoreline is by taking the Arctic Ocean Shuttle. You've come all this way, so might as well do it!

Pack swimming trunks and a towel. When you make it to the arctic ocean (take the tour!), you'll want to jump in the water. I wanted to, but didn't have the right gear, so I ended up doing the next best thing: rolling up my pants and walking knee deep into the water. Lame.
If you have any other questions, send me a note! I'd be happy to help with additional information.
##
Wanna learn about my adventure on the Dalton Highway, then keep reading:
According to Dalton Highway lore, rogue truckers have outfitted their wheels with spikes and run motorcyclists off the road for sport. The highway is constantly being resurfaced with gravel, sand, and, in some areas, nails and spikes of varying sizes specially designed to shred tires. And on rainy days, the mud is so deep that it's rumored to swallow rider and motorcycle whole. But let's say you manage to overcome these obstacles; you're certain to fall prey to the mosquitos, which are often compared to piranhas in their size and ferocity.
The Dalton highway, it seems, was made for the fool, the crazy, and the suicidal. So it stands to reason that after reading about the Dalton Highway, I'd pack up my motorcycle and head north.
My friend, Russ, and I had been riding together throughout South America the previous year, but took a separate route during our ride north. We arrived in Fairbanks and allowed a couple of days to plan and prepare — from Fairbanks I was headed to Prudhoe Bay while he was going to Denali. I outfitted my motorcycle with a new set of off-road tires, and that was pretty much the extent of my preparations. Russ caught me watching cartoons on my iPad one morning and asked how my planning was coming along. "Swimmingly," I replied, "just swimmingly." Caught off guard I had to quickly think of something, and what with the constant rain we had been getting, that was the first word that came to mind. I couldn't tell him that my idea of planning had been to open the Weather App and wiggle my fingers at the phone while muttering, "please be sunny, please be sunny, please be sunny." It's what I had done before my rides while living in Phoenix, and that seemed to work. Alaska, however, proved to be less cooperative. For the three days leading to my departure the route along northern Alaska was pounded with heavy rains. Unable to justify any further delays, I departed under light rain on the fourth day.
On my way out of Fairbanks I traveled northwest for about 15 minutes and merged into the Elliot Highway, falling in line with four other motorcyclists who happened to be traveling along the same route. For weeks I had searched online for riding partners to take on the Dalton Highway. There's safety in numbers, I've heard people say, and that's a comforting thought when you know that it's almost certain that you'd be the one who'd need help. You'd be the one with the flat tire, or the fallen bike, or the faulty equipment. You'd be the one relying on people whose planning involves more than wiggling their fingers at their phones. So when I saw these four riders in front of me, I decided to fall in line, pretending I was part of their team. Eventually they noticed my presence and the group slowed down. When I slowed down with them, the rider in front of me waved for me to pass, but rather than accelerating I gave him a thumbs up. "I'll stay right here if that's OK with you," I said. I could tell they were having a little pow-wow through their bluetooth radios, most likely trying to figure out what to do about this weirdo who was now intent on following them.
An hour later we reached the turn to the Dalton Highway and pulled over to take the customary Dalton Highway sign photo. The rain had stopped, but that didn't make road conditions much better, as we now had the mud to contend with. I learned that the group of bikers were from Illinois and bound for Prudhoe Bay, but what with the weather and their tight schedule, their leader decided it was time to turn back to Fairbanks. They couldn't wait for road conditions to improve and couldn't risk any major mishaps on the road. This sounded like a ploy to get rid of me. Instill enough fear on the weirdo that's following and he's bound to turn around. They asked about my plans and I said that I'd just keep going. "Well, you're a damn fool, is what you are," their leader said. "Roads like these… there ain't no way one can keep the bike up right. You get stranded in the middle of the Dalton, between the mosquitos and the bears, you're bound to be eaten alive one way or another. Is that what you want?" I guessed that I didn't, but that wasn't enough. "Do you have all the tools needed to replace a wheel? Do you have any spare tubes? How you gonna upright that monster if you fall in the mud?" He was now laying it on thick, so I told him that I did have all the tools, but left out the part about not really knowing what to do with said tools. My contingency plan remains pretty much the same regardless of the situation — I'll figure something out. Fallen bike? I'll figure something out. Flat tire? I'll figure something out. On and on. I'm not sure where this conversation would have gone had it not been interrupted by a pilot truck with a Wide Load sign on top. The driver of the truck pulled over next to the group and asked if we were ready to move. A couple of trucks carrying heavy equipment were approaching and if we wanted to reach our destination today, then we better get going or we'd be stuck behind them. We scrambled to our bikes. I turned right to continue north and saw the other four bikers turn left, toward Fairbanks, and never saw them again.
The road up to this point had been paved, except for a couple of miles of gravel patches. The Dalton Highway starts as packed gravel with interspersedly paved portions that get progressively longer until eventually you can average between 70 and 90 MPH. The last sixty miles leading to Coldfoot are completely paved. It's about 255 miles from Fairbanks to Coldfoot and it took me about 6 hours to get there. I refueled in Coldfoot and continued north for another 5 miles toward the Marion Creek Campground, my lodging for the night. I took the first spot close to the entrance and started setting up my tent when the attendant came by on his bicycle. "Howdy!" He said, "How's the road treating you?" He was wearing a mosquito net, which made his features indiscernible. I told him that the road was nice, and he said that I was crazy. "You have a mosquito net? Because you're gonna need one. Oh, damn mosquitos can be maddening. I've never seen so many mosquitos. And big too! Not so much right now, but just you wait." I don't know if it was the wind, the rain, or the temperature, but there wasn't a single mosquito that evening. "You know, you're the only fellow here today. We had four riders last night, but they left for Prudhoe Bay this morning. That where you're going? You people kill me with your trips to nowhere. There's nothing to see there but oil fields. Anyway, you have the entire campground to yourself, so chose any spot you like." I told him that any flat piece of ground would do for me. "Oh, number twenty two is a beaut!" He went on, "that's probably one of the best spots. You can just walk over to the creek and go for a swim, if you're into that sort of craziness. But you have to bring your own towel. A lot of people think that we keep a stack of fluffy towels right here for campers to use, but no sir. They come up to my door, trembling, their teeth chattering, asking for a towel. They expect me to come out with a stack of those thick towels that have been warmed for their comfort. Not here! I tell them, 'you can swim if you like, but you have to bring your own damn towel.' Did you bring a towel?" I told him that I had no plans to swim. Just wanted to setup my tent and go to sleep. "Well, if you're into seeing wild life, then I'd say spot number seventeen is for you! Bears and whatnot." I told him that I wanted to stay as far away from bears as possible, so I'd just stay right where I was. "Suit yourself," he said and rode away.
The following morning I cleared my campsite and got back on the road. I considered riding the five miles back to Coldfoot for breakfast, but after sitting on my ass for weeks without doing so much as a single squat, I thought I could stand to miss a meal. Most of the highway north of Coldfoot is actually paved, with longer interspersed portions of gravel and, because of the recent rains, mud. Eventually the boreal forest gave way to arctic tundra; the subsoil in this area is permanently frozen so only vegetation with a very shallow root system can survive this far north. Within two hours I reached Antigun Pass, a very significant point of my journey as I was now crossing the Continental Divide. Rivers to the north empty into the Arctic Ocean, while rivers to the south empty into the Bering Sea. By this time fear was replaced by awe and my ride delays were caused less by road conditions and more by my constant desire to take a photo. About fifty miles from Prudhoe Bay the roads got decidedly more hazardous due to construction. Sections of the highway had been recently resurfaced with a thick layer of lose gravel that made riding a motorcycle akin to skating.
Despite what seemed like slow going I reached my destination much earlier than anticipated. Deadhorse Camp offers a tour that allows visitors the opportunity to visit the Arctic Ocean twice a day — 8:30 am and 3:30 pm. I was scheduled for the 8:30 am tour the following morning, but since I arrived so early, I asked whether they'd let me join the upcoming 3:30 pm tour. They were very accommodating and also let me store my luggage and equipment at their offices while I went on the afternoon tour.
After the tour I checked into the Prudhoe Bay hotel and found the accommodations to be much better than I had expected. While I was checking in a fellow rider shoved me aside and leaned on the counter to speak to Joree — the hotel clerk — and, apparently, to find out how many f-bombs he could cram into one rant. I wanted to say something like, "Hey, watch it baldy!" Or "Wait your turn, buddy!" But my reaction was too slow and by the time I had thought what to say, it was too late for it to have any effect. So I decided to stand back and let this play out. Turns out this guy was one of the riders heading north that the campground attendant had told me about the day before. That day there had been four separate motorcycle accidents along the highway. Two motorcycles were totaled and one of the riders suffered a broken leg and had to be medevaced. Joree later told me that this guy had been so traumatized by the ride that he refused to get back on his motorcycle. Instead he was shipping his bike and taking a flight home himself, and she was helping him make the arrangements.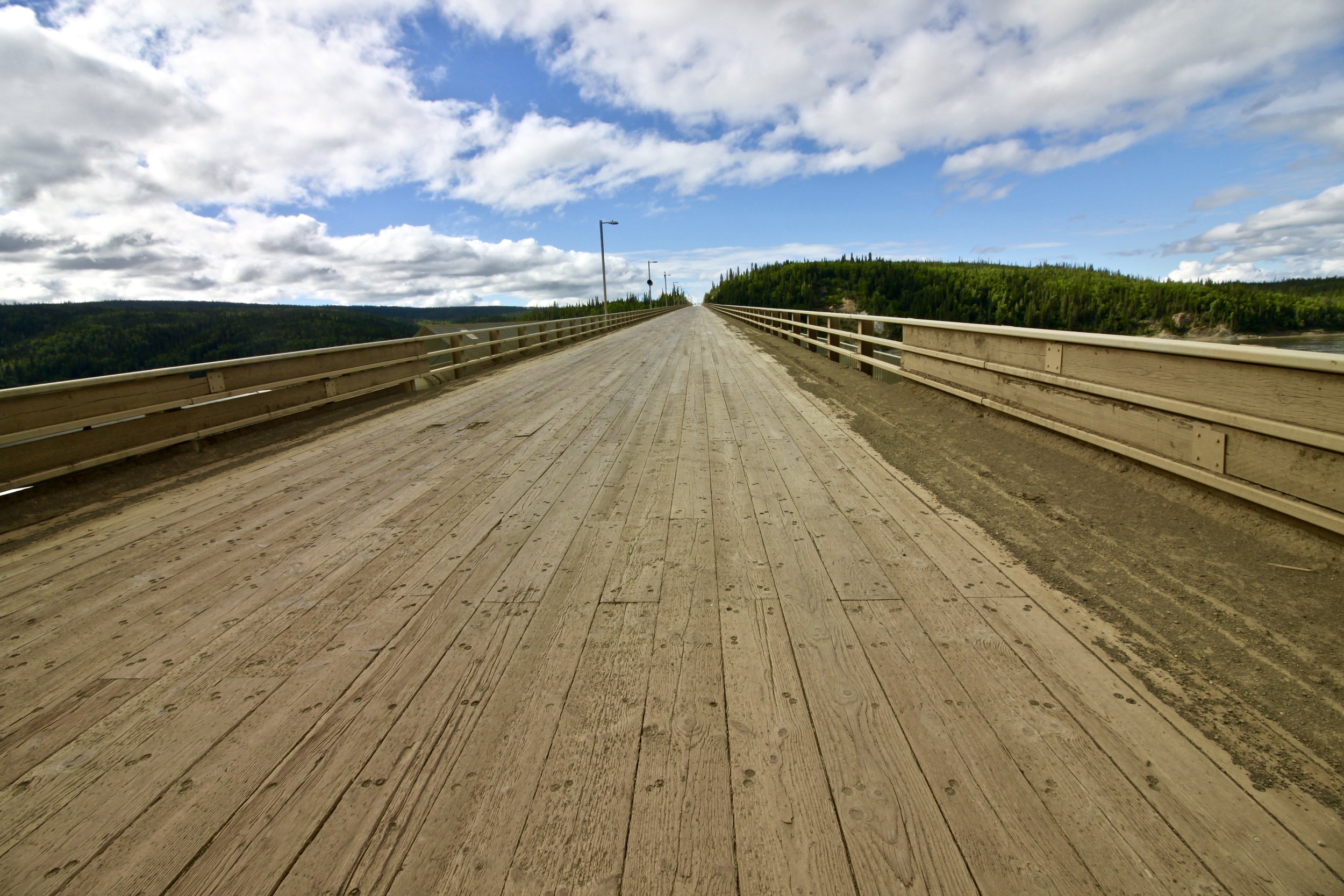 After unloading my bike and settling into my room, I went back to the front desk to hear more about the rider's misfortune. He had been rude to me and the hotel clerk and it gave me great pleasure to watch him buckle under pressure. He was at the front desk, just as I had expected, impatiently tapping his fingers on the counter. "You just get in?" He asked, apparently forgetting that he had shoved me aside earlier. "That road is brutal!" He offered without being asked. "There's no way I'd get on the road. If I were you, I'd start packing my bike right now and get yourself a flight." I told him that the road had actually been very pleasant and I was considering taking my bike for a ride of the surrounding areas. "Man," he said, "you're insane. But if you want to wreck your bike, be my guest. It's your funeral. Me, I'm taking the first flight out of this dump." Then he turned to Joree, "no offense." Joree was nothing but professional and couldn't care less. I'm not one to take pleasure from someone's misfortune, unless that someone desperately deserves it. This guy deserved it in spades. His behavior was childlike, with no regard for others. I've behaved like that myself, but usually confine these shenanigans to the privacy of my own room. I might brood and pout and even throw a tantrum, but I wouldn't rudely expect others to bend to my will just because I've been inconvenienced.
I wish I had a more harrowing story to tell, but the return ride was actually even better than the day before. Road conditions were better than expected despite the rain, and the truckers I encountered were nothing but courteous and professional. There were no bears stalking me at every stop, nor did I see the piranha-size mosquitos. Again I camped at the Marion Creek campgrounds and then continued on to Fairbanks. As soon as I entered the Fairbanks city limits I pulled over to send Karie a message letting her know that I had survived. Just then a fellow named Rick approached in a truck, he was looking for a laundry mat and wondered if I could help him. I told him that I didn't know the area, but we could search for it together on my phone. We got to talking and found that we had many things in common, but it was our affinity for dogs that made us immediate best friends. We both have children and grandchildren, but it was photos of our dogs that we shared. It was such a wonderful way to cap my trip to Prudhoe Bay.